Visiting Washington, DC and looking for something to do that doesn't involve politics, statues, monuments, or museums? Just want to relax, take a break, and have a drink? Explore some historic bars in DC that reflect the rich history of the Nation's Capital. Are you ready to drink the history of DC?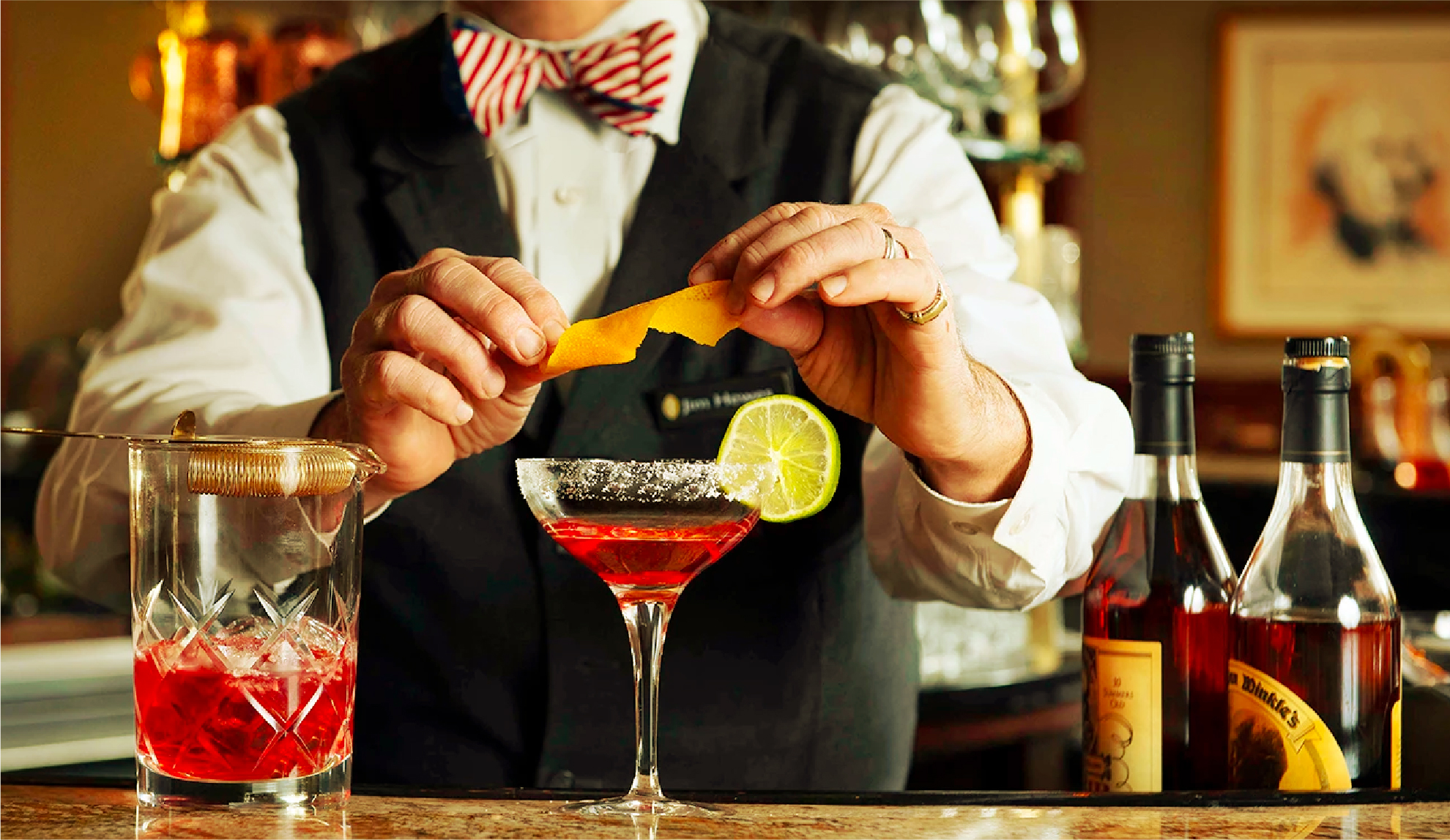 Round Robin Bar
1401 Pennsylvania Avenue (inside the Willard Hotel)
We can't afford to stay in the ritzy Willard Hotel, but we will gladly visit the hotel bar for a cocktail and a piece of history. Called the "Oval Office of Bars", the Round Robin has literally served US presidents, politicians, authors, and celebrities. This historic bar in DC has seen it all!
MLK wrote his famous "I Have a Dream" at this hotel. President Lincoln and Mark Twain frequently drank at the circular bar. It's considered one of the America's most historic places to grab a drink. And, be sure to order the Mint Julep – the Round Robin's signature cocktail. Once a month, the Round Robin hosts a "History Happy Hour" – a two-hour trip through the 200+ years of history associated with the Willard and the Round Robin!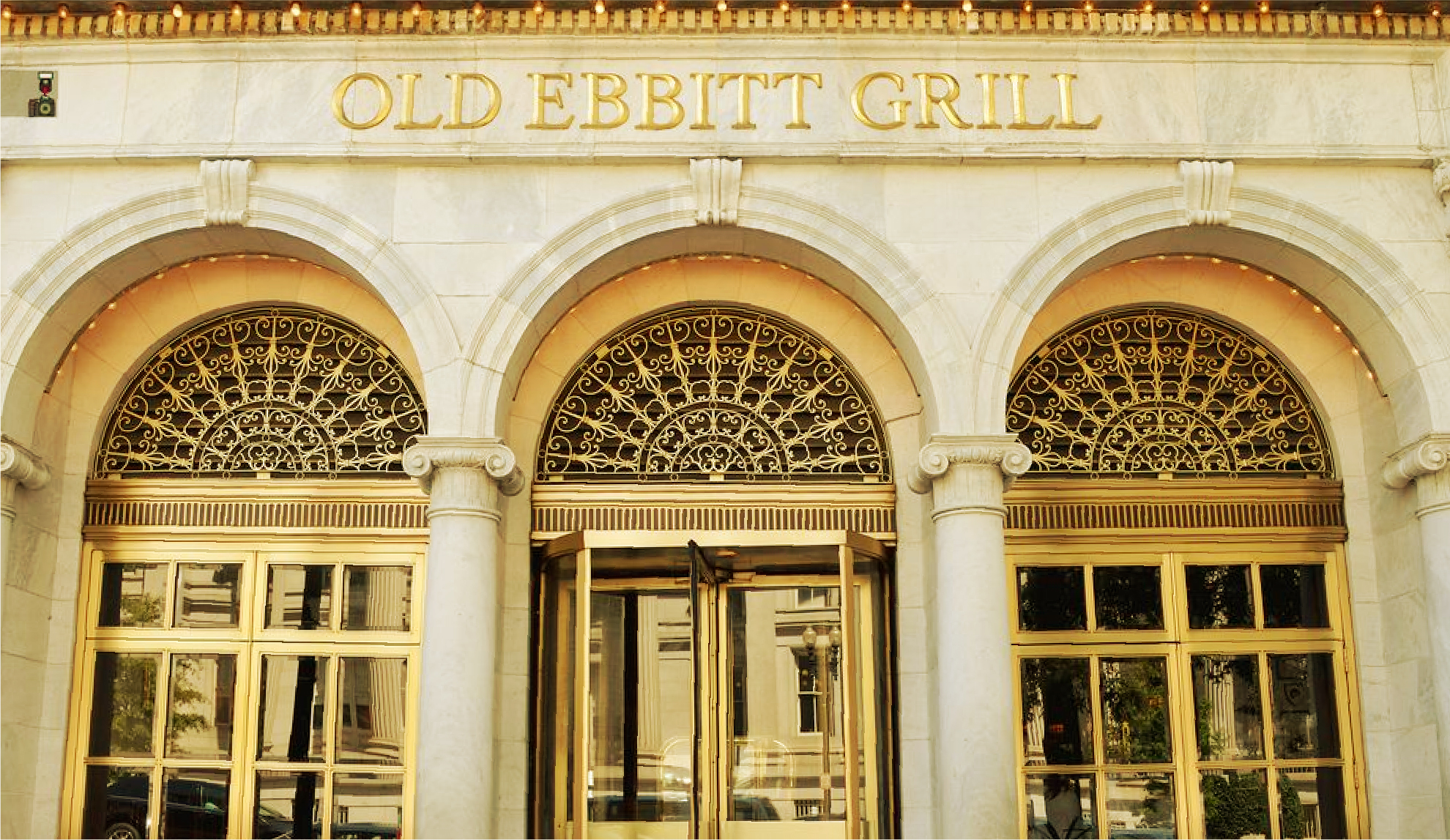 2. Old Ebbitt Grill
675 15th Street
The Old Ebbitt is Washington DC's oldest bar and restaurant. In the shadow of the White House and across the street from the majestic Treasury building, it has hosted many politicians and celebrity bashes over the years and was once the highest grossing restaurant in the US. It's frequently busy and a famous landmark for tourists and locals, so expect to wait to a table. However, you can often sneak into one of Ebbitt's four bars for a cocktail minus the long wait.
Old Ebbitt is known for their oysters and raw bar, so if you go try to time it with their daily Happy Hour – the best bargain in DC! Oysters are 50% off, and they are absolutely delicious. While sucking down some bivalves, be sure to try the signature Bloody Mary with a large jumbo shrimp and Old Bay seasoning.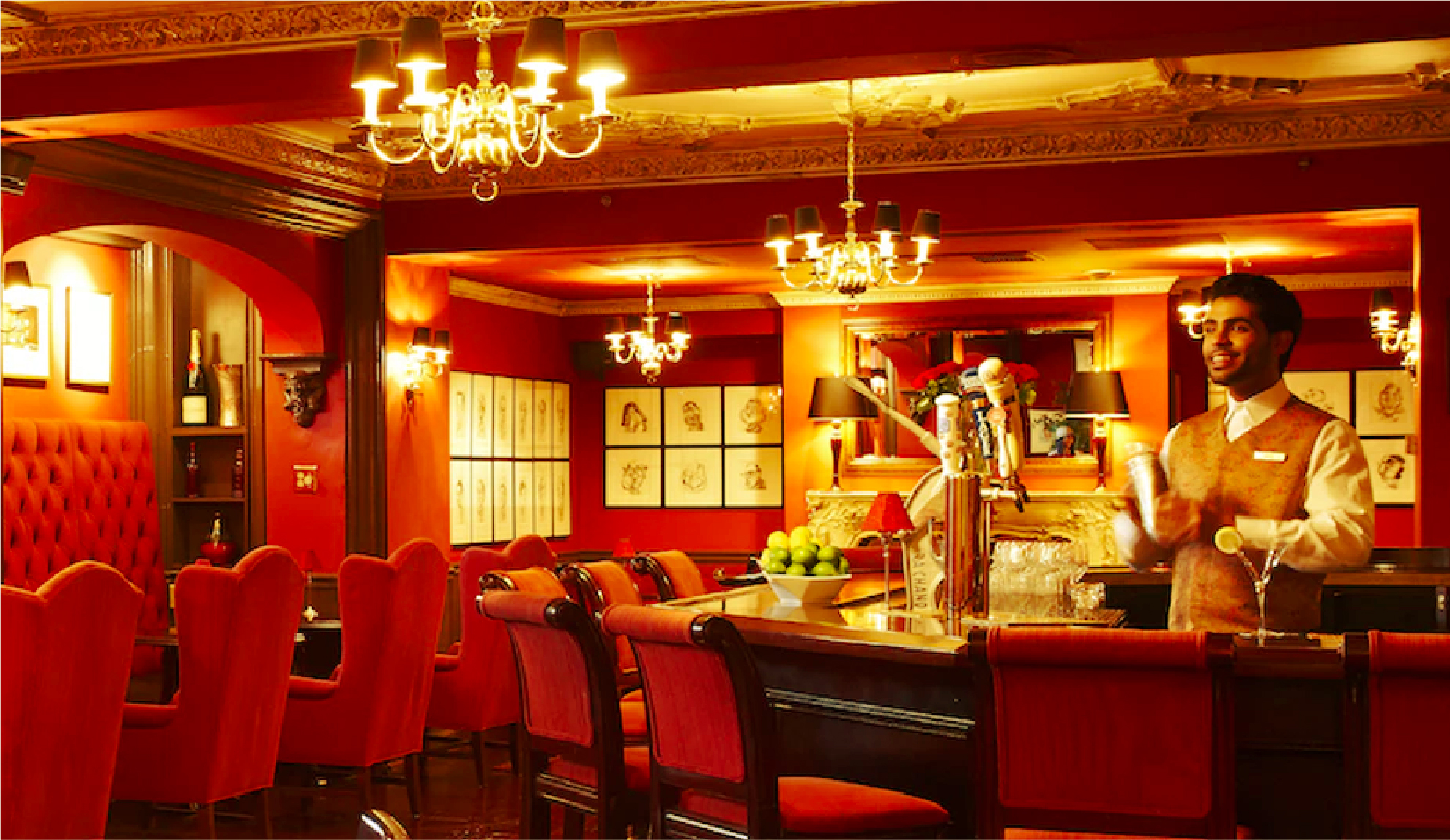 3. Off the Record
800 16th Street (inside the Hay-Adams Hotel)
Off the Record was named one of the world's best hotel bars – it's a small, but luxurious basement hangout that is often inhabited by Washington DC's most powerful and recognized movers and shakers. This place is exactly what you expect when you think of historic bars in DC.
Drinks are expensive ($20+), but creative and worth every drop. You're paying for the location and for the chance to maybe – just maybe – bump into someone famous. Every drink is special, but we recommend either a "Trumpy Sour" (Filibuster Whiskey, lemon juice, thyme, and honey) or the highly-addictive "Slip of the Tongue"made with Grey Goose vodka, pineapple, lime, cucumber, and basil. For $40 a round, you can feel like a million bucks at Off the Record – an experience that cannot be overlooked or understated.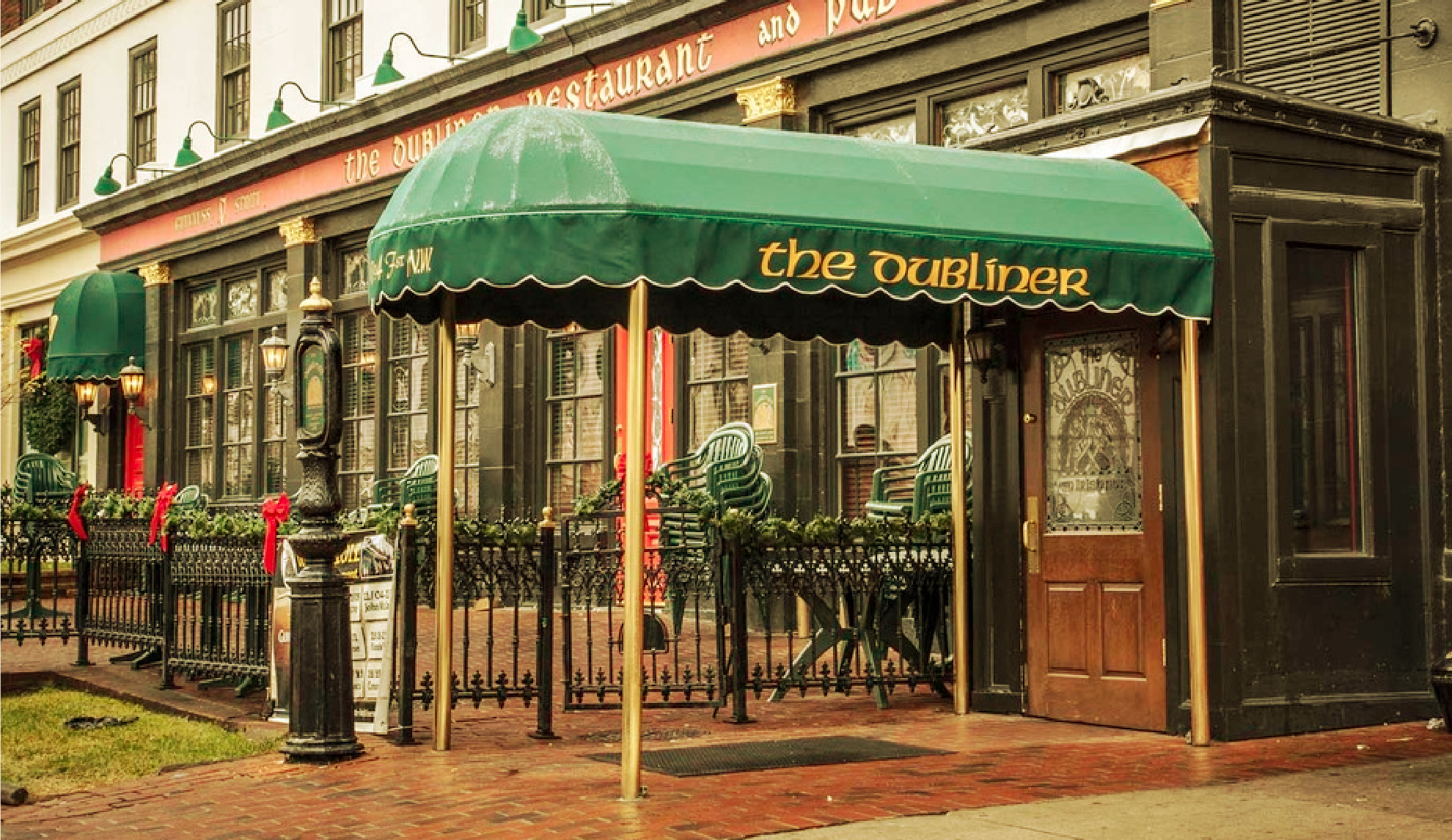 4. The Dubliner
4 F Street NW
The Dubliner Restaurant & Bar was founded in 1974 and is an exact replica of a Dublin City pub. Why visit? The Dubliner is as authentic and Irish pub as you will find in the US. They are one of the largest sellers of Guinness in the States and the only place in the world where you can drink an Auld Dubliner Amber Ale – brewed just for the Dubliner and its patrons.  They were also the first US pub to serve a pint of Killkenny Irish Cream Ale. Like something a little harder? The Dubliner boosts over 100 types of Irish Whiskey including their own imported, proprietary label.
Even better, the Dubliner offers authentic Irish entertainment every night of the week! This is the closest you can get to Ireland without a passport. How close? Since '74, every single Irish Prime Minister has visited the Dubliner during their annual pilgrimage to D.C. for St. Patrick's Day! Hungry? Fish & Chips!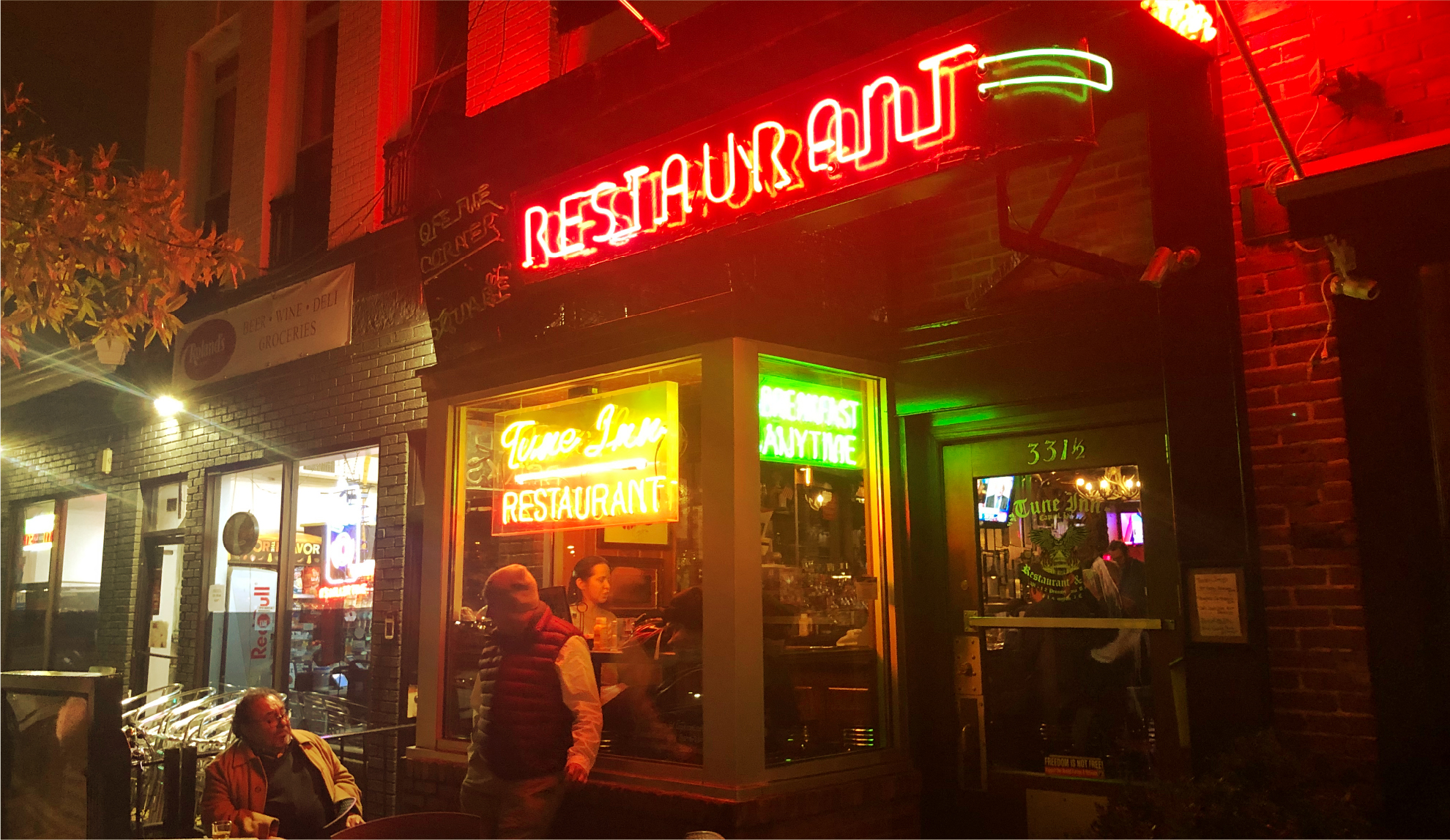 The Tune Inn
331 Pennsylvania Ave SE
Lastly, we recommend a visit to the Tune Inn. It's a complicated spot. Part Dive Bar, part icon, this is one of the most historic bars in DC. It's been slinging drinks on Capitol Hill since 1947. Why do we love it? First, the decor is awesome. Taxidermy animals (most killed by the owners) and vintage signs give it some authentic curb appeal. Second, breakfast and beers are served starting at 8 am. Third, Guy Fieri featured the Tune Inn's "Deep-Fried Burger" on his TV show. Finally, there's no website or fanfare – this is just an old fashioned neighborhood bar that tries hard at all the right things; good draft beer, greasy bar food, and a real people. Check it out!
We hope you enjoy our tour of some of Washington DC's most interesting and historic pubs, bars, and taverns. Drink up that history!