Baltimore is a beautiful city and a tourist's paradise. There's lots to see and do – especially in and around Baltimore and the Inner Harbor. The Charm City has something for everyone and it's a very walkable city to explore. Don't like walking – take a water taxi from spot to spot or jump on the Light Rail. Everything is within just a few miles! Looking for something special to do? Here are our Top 5 things to do if you are visiting Baltimore's Inner Harbor.


Fort McHenry
Looking for some history? Get yourself to the tiny fishing village of Fell's Point – just a few steps north of the Inner Harbor. Fell's Point is an historic spot. It's second only to Ellis Island as a destination point for immigrants in the early 1900s and was home to Frederick Douglass (check out his memorial park and statue here) and the first Black-owned shipyard. Baltimore has a rich maritime history, and Fell's Point was the backdrop to that seaside story. Once at Fell's Point, take a water taxi out to Fort McHenry – the site of a fierce battle during the War of 1812. US soldiers successfully defended Baltimore's Harbor from the British from inside Fort McHenry's stronghold.
This is the battle and the spot where Francis Scott Key wrote the "Star-Spangled Banner". The National Monument and Historic Shrine are a must-visit for all history buffs. Expect to spend half a day – more if you like to explore and want to take the highly-recommended official ranger tour. Plan your visit in good weather – the ferry/taxi ride over is half the fun, and the Fort is worth exploring and enjoying.  Most of your day will be outside – so plan accordingly.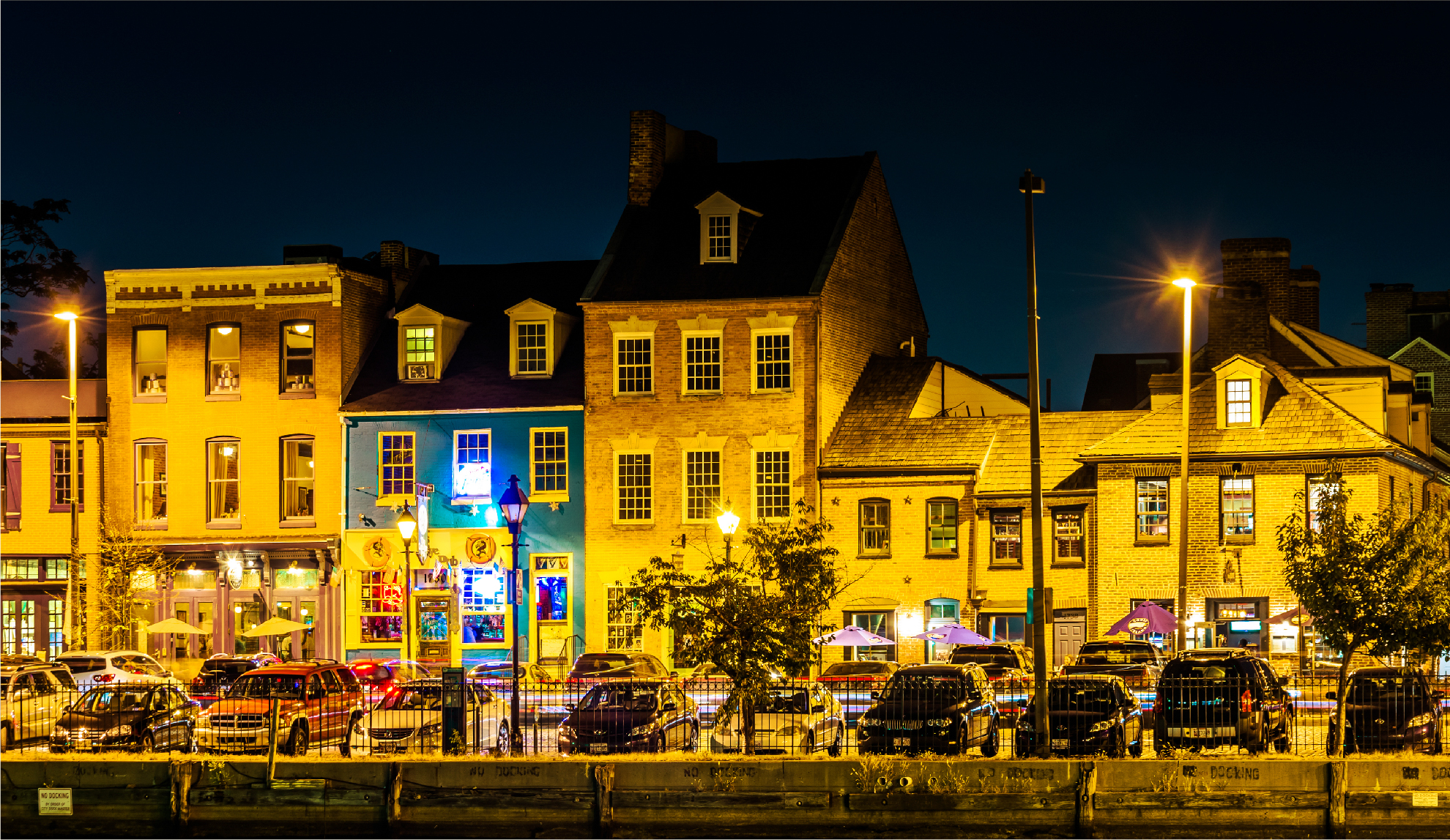 Fell's Point
Before or after your trip to Fort McHenry, make sure you spend some time exploring the quaint village that has become a hot spot with locals and tourists. There are a number of cool bars, restaurants, shops, and markets to explore. Walk the cobblestone streets and check out the historic Baltimore Row Houses that dot the neighborhood.  The restaurants in Fell's Point are top-notch and far from the touristy chains you will find in the Inner Harbor. Grab a burger at Alexander's Tavern. Grab some fresh oysters and mussels at Bertha's. Or, order a crab cake at Duda's  – a neighborhood favorite!
Fell's Point is also a great place for an impromptu pub crawl as it features some of the best pubs, bars, and taverns in all of Maryland. Expect to a very lively after-hours seen – especially on Friday and Saturday nights.  With just a few steps or stumbles, we suggest you grab a pint at The Horse You Came in On (the reported site of Edgar Allen Poe's last drink!), Max's Taphouse (one of the best beer bars on the planet), The Waterfront Hotel (WTF Hotel!), and Rye (revered for their creative craft cocktail menu).


Inner Harbor
Yup, it's touristy, but spend some time popping in and out of the shops at Inner Harbor. Board and tour the USS Constellation (it's actually a floating National Park) and the other Historic Ships of Baltimore. Rent one of the famous Chessie Paddle Boats or Pirate Ships and zip around the harbor. We highly recommend Baltimore's National Aquarium – especially if you are visiting with little ones. Rated one of the best aquariums in the US, you will not be disappointed. And, they have sharks! If you have kids with you, no trip to the Inner Harbor is complete with a visit to the Maryland Science Center. It's highly interactive and offers tons of hands on activities that allow parents to step back and watch their kids have a blast.
Need a quiet moment or a few second to cool off?  Find a spot on the upper floor of the Barnes & Noble – nestled inside an old power plant with some of the those industrials features still intact. It feels like you are in a bookstore inside of a museum. Plus, there's coffee!


Camden Yards
It doesn't matter what team you cheer for at home, just pretend to be an Oriole's fan when you visit Baltimore and check out Camden Yards. Do it! Open since 1992, Oriole Park at Camden Yards is considered one of the finest ballparks in the country. The design of this "retro-classic park" changed the game forever and became the inspiration for over 10 new ballparks across the country. Take an official tour of "Birdland" or – if the O's are in town – take in an actual game. Tickets are very reasonable and the ballpark has so much to offer fans and visitors. Make sure to have a pint of the official beer of the Orioles – Natty Boh. We promise – you will not be disappointed!


Edgar Allen Poe House and Museum
We are suckers for a good horror story, and can't get enough of Edgar Allen Poe when we are in Baltimore. Poe haunts the Inner Harbor and his presence can be felt just about everywhere (for example, the Baltimore Ravens). Poe basically perfected the short story and invented the detective fiction genre as we know it today. He was also a major influence in science fiction and his psychologically-damaging horror fiction still keeps people up at night. Poe's ghost is frequently spotted around the Inner Harbor and Fell's Point so his spirit is literally alive and well in Baltimore. Take a few hours and visit his house and museum to learn more about Poe and his time in the Charm City. But, hours are limited, so be sure to check before you head out. Who knows? Maybe Poe will show up and say "Hello".
We hope you enjoy your visit in and around Baltimore's Inner Harbor.