There may not be a better city to visit than historic and happening New Orleans, LA.  The Big Easy has it all – food, music, history, architecture, cemeteries, romance, parties, bars, sports, and recreation.  In fact, exploring the city – especially for those visiting for their first time – can easily feel overwhelmed. Relax.
Here are the the top 5 things to do on anytime you visit New Orleans: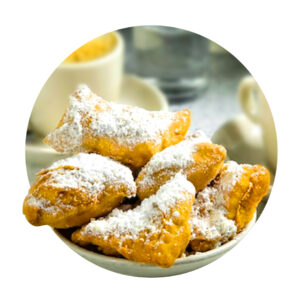 Grab a Coffee and Beignets at Cafe Du Monde
Do not be afraid of the line!  Cafe Du Monde has been pouring their world-famous chicory coffee and powdery-delicious beignets (pronounced ben-yays) since 1862. No day in the French Quarter should start without these sugary treats!  It's cash only – so hit the ATM on your way.


Eat a Muffuletta – Anywhere!
New Orleans may be famous for its Po' Boy sandwiches, but it's the muffuletta that deserves all the attention.  Invented and made famous in NOLA, this Italian sandwich has all the (cured) meats!  Made with a generous pile of salami, ham, and provolone cheese and then smothered in an olive dressing, the muffaletta is the perfect sandwich. You can find these anywhere, but we recommend grabbing one at the Central Grocery (home of the original) or the Creole House.


Listen to Live Music
People visit New Orleans for Bourbon Street, but make sure you visit Frenchmen Street (just a few blocks away) which is lined with live music venues, bars, and funky shops.  The party on Frenchmen lasts well into the morning, and you can hear authentic New Orleans' blues and jazz drifting out of every nightclub and music hall. You can head inside or just walk the street for some endless (and free) entertainment. Check out Snug Harbor, Three Muses, or the Maison.  It's good to have reservations, so plan ahead if you want to sit, eat, and enjoy the music.


Take a Spooky Tour
New Orleans has a haunted history unlike any city in the United States. You can visit above-ground cemeteries, hang out with some real vampires in the Dungeon, try to solve the mass-murder mystery of the Axeman, or conjure some spirits at a local seance.  New Orleans has enough haunted spirits, serial killers, ghosts, demons, and witches for an entire night of frights.  Sign-up for a walking tour and learn all about what goes bump in the night!


Build Your Own Pub Crawl
It wouldn't be a trip to New Orleans without a night on world-famous Bourbon Street. The bar scene can be overwhelming and you can take drinks into the street "to-go", so pace yourself and find some places that match your vibe. Bourbon Street has something for everyone. Try a Hurricane at Pat O'Brien's or a Voodoo Daiquiri (the purple drank!) at Lafitte's Blacksmith Bar.  You really can't go wrong popping in and out of the bars on Bourbon.
Don't feel adventurous enough to build out your own pub crawl?  Let Blues & Clues tour you through the best spots in the Quarter.  Check out their walking tour of the best bars in the area while also helping you learn a little more about what makes New Orleans the best place to visit!
There is so much to do in New Orleans. Have fun, be safe, and let the good times roll!